TILE REFINISHING – Call (808) 554-1570 for a free quote

We most commonly refinish tiles in conjunction with bathtub refinishing. Ask about our special tub/tile combo. Tile refinishing is perfect for:
Providing that sleek "all one color" look'
Changing tile color without costly replacement
Making your bathroom easier to clean – no more grout to clean!
Saving lots of money repairing chipped or cracked tiles – we can fix those chips fast before refinishing the tile
That all being said, if your tile is fairly new and is in relatively good condition another option is to clean and polish the tile, and refinish the tub. The best thing to do is to call us for a no-cost consultation and we can help determine the best course of action for your particular situation.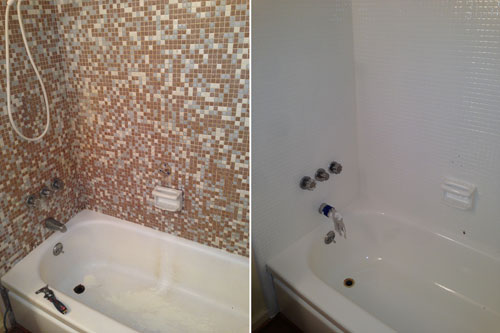 BE AWARE OF SLOPPY TILE REFINISHERS
Refinishing tile is usually as big a job as refinishing a bathtub, and uses three times the amount of chemicals and coatings. This skill involved in reglazing the tub and the tile is much greater than reglazing the tub alone. The risk of imperfections such as runs (drips in the coating), sags, and orange peel (dry spray) is much greater than when doing the tub alone.
We get called to fix a lot of sloppy work, and tile walls are rarely prepped correctly. The entire surface area must be completely free of soap scum, body oil, dirt, silicone caulk, and any other foreign particles that coatings will not bond to. The most common thing we've seen is lack of attention on the edges of the tile that are slightly beveled, and the grout. Most refinishers use a large razor to remove soap scum, and can't easily clean in these recessed areas. We've developed a process to ensure the entire fixture is completely clean.
If prepped correctly, coated correctly, and cared for properly, a refinished tile wall will last well over a decade – likely 20 years or more as vertical surfaces receive little wear. If not done properly, it can be hugely expensive to remove the old coating and have the work redone.
A WORD ON TILED SHOWER STALLS
Bottom tiles on a tile shower stall are problematic for most coatings used by refinishers. The reason for this is that these shower stalls rarely drain good, and water often gets stuck in the grout channels and sits there permanently. No matter how good a job it is, standing water is the enemy of residential-grade coatings and the work will eventually fail. Our heavy duty commercial-grade coating is rated for underwater use, used in swimming pools, oil rigs, water parks and other high stress, high use environments and is the only coating we will use for tile shower stalls. Due to this, you must allow appropriate time for it to cure, a minimum of 24 hours.
In this example, we reglazed a previously reglazed tile shower. We also reglazed the fiberglass tub and surround, and polished the glass shower door and surround. We are adapt at working with non-normal fixtures and bathroom layouts.