PORCELAIN RESTORATION – Call 808-554-1570 for a free quote
Our proprietary process can restore most porcelain that isn't severely damaged to near-new condition. Vertical wall tile, newer cast iron tubs, lavatory sinks and floor tile are prime candidates for restoration. It is common for us to restore bathtub tile, and refinish the tub. Many tubs have experienced far more wear than the surrounding tile which necessitates the refinishing.
Restoration involves cleaning contaminants from the porcelain surface, polishing minerals and hard water off, and sealing the surface.
Below are some examples of what porcelain restoration can do for you:

Sinks are easy and cheap to restore.
This customer didn't mind the dated colors of this shower. Although it was 50 years old we were able to bring it back to about 75% new.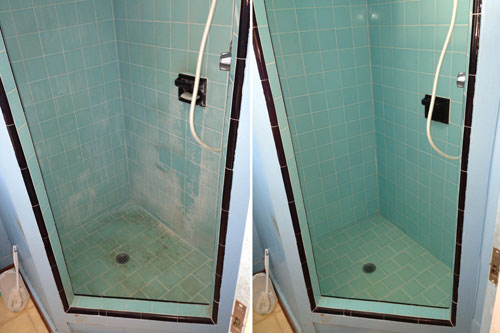 We restored this black porcelain tiled shower. Here you can see a wall we have polished along with the watermark stained original wall on the right.