Do you have a new condo, house, or a freshly renovated bathroom and want to keep it in new condition? Our maintenance service, the first of its kind in Hawaii, goes beyond normal cleaning, and helps protect your investment so costly replacement can be postponed far into the future. Services we offer:
1. Glass polishing and protection – Hard mineral stains are removed using rotary polishers. A glass sealant is then applied. Typical cleaning services lack the power tools, compounds, and expertise to take care of your glass properly. Wiping with Windex is not effective for built up deposits. Worse, cleaners may use steel wool or other abrasives that will damage your glass.
2. Tile cleaning and sealing – Whether you have porcelain, ceramic tile or natural stone, we can clean it using a variety of tools including rotary polishers and steam cleaners, then apply the appropriate sealer to help prevent staining until our next visit. Smooth glazed porcelain doesn't require sealing as its non-porous. Cleaning services usually don't understand that each material requires a specific cleaning process. Natural stone, for example, is much more delicate than porcelain, and special compounds and processes must be utilized to remove contaminants without damaging the material. It is also very important to only use sealer once all stains and contaminants are removed otherwise they will effectively be sealed in and that much more difficult to take out.
3. Grout cleaning and sealing – Grout is the substrate that requires the most maintenance. It is typically very porous, and many times contractors, including those working in such places as new Kakaako high rises, neglect to properly seal grout knowing that it is difficult to tell if grout is sealed or not, and by the time you notice that stains won't come out, your warranty will have expired. We utilize the most electric powerful steam cleaner on the market to clean grout. Only after it is clean will we seal it.
4. Bathtub cleaning (without damaging it) – Most cleaners use scouring pads and powders (ajax, comet, etc) to clean tubs. THIS IS NOT THE PROPER WAY TO CLEAN A BATHTUB. Tubs are either acrylic or porcelain enamel. Porcelain is a harder material than acrylic but regardless, any sort of abrasives will damage the surface. We use rotary polishers to safely buff tubs. We use different compounds for porcelain and acrylic. Almost all the new condos that have a separate soaking in the master bathroom use acrylic because its cheaper and far easier to install. Once the shine is scratched off acrylic, there's no bringing it back besides refinishing. Before your regular cleaner destroys the finish, get on our program to protect your investment.
5. Countertop cleaning and maintenance – Whether you have granite, quartz, or a solid surface countertop, we can maintain and seal it. We do all the detail areas such as the build up around fixtures.
6. Glass cooktop cleaning – Glass cooktops get dirty fast. If we are already at your place maintaining your other surfaces, we might as well clean your glass cooktop at the same time.
Our typical Maintenance account has us come every 3-6 months. Recurring cost varies depending on the specific fixtures you have and number of fixtures, along with use. Typically the first visit will be a bit more intensive. After this initial deep cleaning service, the recurring price stays constant. During the initial FREE consultation, you will be provided with cost of the first visit, and an estimate for recurring visits.
With the building boom in Kakaako, we've seen enrollment in our Maintenance Program skyrocket.
We will gladly work anywhere on Oahu. Newer buildings we regularly work in include:
The Collection
Anaha
Symphony
Waiea
Anaha
Symphony
Pacifica
Moana Pacific
Keauhou Place
One Ala Moana
Capitol Place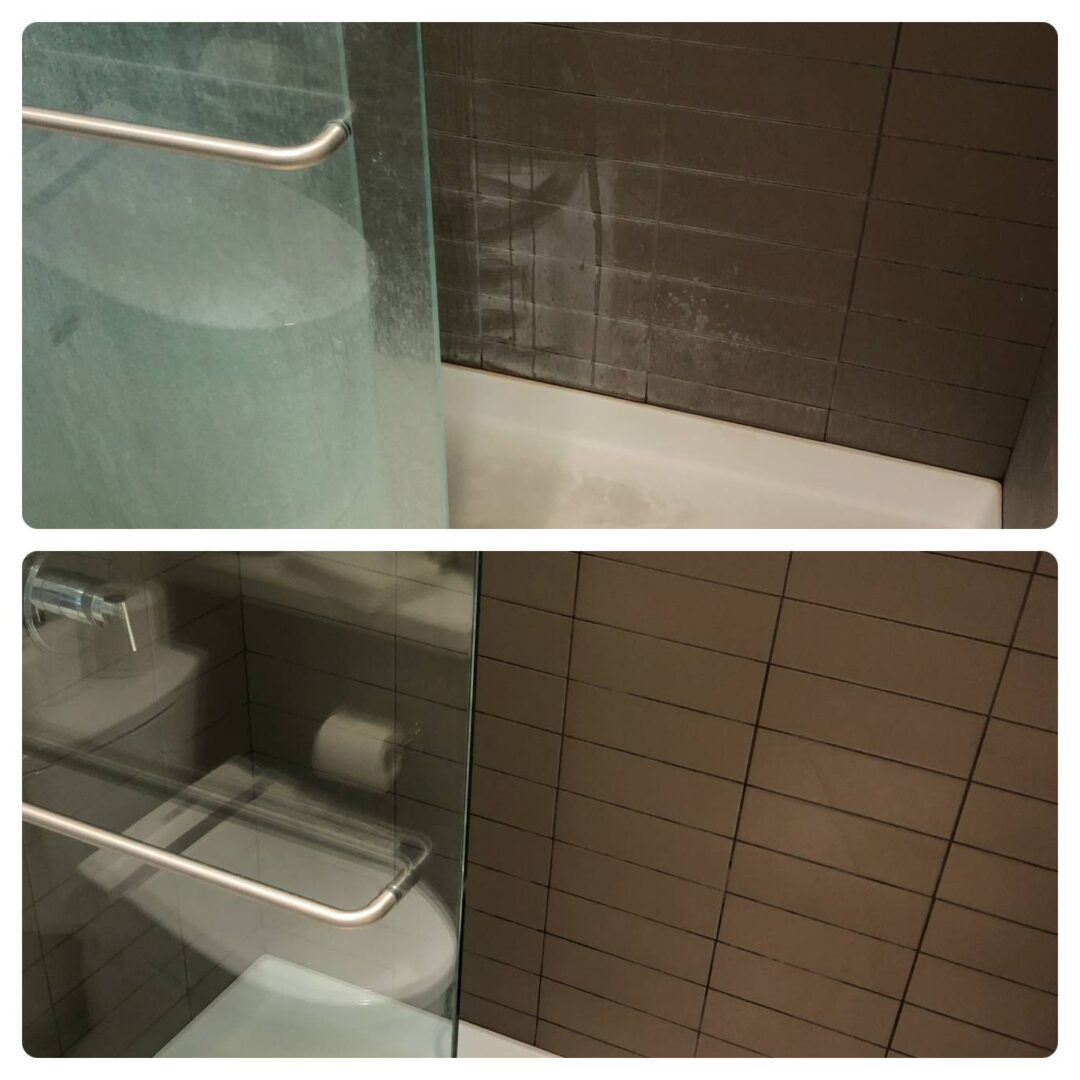 Tile, Glass & Grout @ The Collection