Glass Restoration, Polishing & Sealing
HONOLULU AREA GLASS RESTORATION, POLISHING & SEALING – CALL 808-554-1570
Oahu Tub is Honolulu's leader in hardwater mineral and deposit removal. When regular cleaning doesn't work and you might be thinking about replacement, call us.
Spotless windows that look brand new and can increase the curb appeal of your home, potentially increasing the value. Likewise, crystal clear windows and glass surfaces at your business bring in more light and show your customers that you care and take pride in your facility. As potential customers or even pedestrians walk by, your windows do not go unnoticed!
Over time, commercial buildings and homes here in the islands develop glass stains due to exposure to the elements, high amounts of tap water from sprinkler system over-spray, minerals leaching from adjacent pre-cast surfaces and inferior product used to maintain a building. Removing mineral stains and etching from window glass in Honolulu, HI is our specialty. In this first picture to the left, we demonstrate a ground floor window immediately adjacent to sprinklers. The water spots on this window are only 3 years of accumulation. After polishing the glass was returned to "as new" conditions
Windows stain because the surface of glass contains microspores, in which tiny drops of water containing dissolved minerals can lodge. Hard water spots are created when water is not immediately removed from glass. As the water dries, mineral deposits are left and in time they build up and discolor the window leaving them white and spotted. Mineral deposits are also found on buildings that have pre-cast concrete panels above any glass. Deposits are also found on buildings that have pre-cast concrete panels above any glass. Rainwater is absorbed into the pre-cast panels then the water runs down on the windows and leaves deposits of calcium and other minerals. Another problem here in Hawaii is ground level glass in proximity to water sprinklers. Water in Hawaii is very hard, and when this mineral rich water dries on glass, deposits are left behind.
Having the windows washed and the glass sealed on a regular schedule is good preventative maintenance. However, over time, minerals and other contaminants will still develop. If outdoor glass is neglected completely contaminants will quickly fuse to the glass, and build up eventually greatly affecting the ability for light to pass through. In this picture to the above left, you can see vertical mineral streaks. This is due to precast rainwater which collects minerals then runs down the window. This window was also slightly etched but we were able to restore it to "as new" condition.
There are various methods for removing mineral deposits, our process is lengthy but very safe and effective. Mineral deposits are removed with fine rubbing pads and different rubbing compounds. Upon removing mineral deposits, a sealer can be applied to the windows to minimize the re-occurrence of water spots — the sealer must be monitored and periodically re-applied. Our window cleaning technicians are highly experienced in removing mineral deposits.

Glass blocks are a common construction material here in Hawaii and over time, develops a haze from hard water deposits. Fortunately we can effectively remove them making the blocks look like new.
Glass is, in actuality, a porous stone material. It requires maintenance and often treatment to retain its beauty and clarity. When not given a regular program of maintenance, stains tend to appear over time. On the outside of the windows there collect debris and mineralized stains that, left alone, may require replacement or restoration. Inside windows are subject to fingerprints, and a wide array of household airborne debris.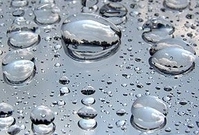 To prevent hard-water stains we can apply a glass sealant product that is formulated to protect areas of glass that come into contact with water frequently; such as bathroom windows or outside windows near a sprinkler. If damage has already occurred, we'll apply a hard-water removal liquid or powder, wash window thoroughly, then apply sealant. In the picture to the right, we show clean glass, protected by our sealant. When held horizontal, water on a sealed glass surface should bead as it would on a newly waxed car. When vertical it should bead then roll all the way down the glass.
Acid rain, sprinklers, ultraviolet light and pre-cast runoff may leave residue on your glass that cannot be removed with the standard window cleaning technique. We will send a qualified technician to evaluate the glass in question and even schedule a test on the glass to determine which method of stain removal is best for your building. After the initial analysis and consultation, our stain removal program will return your glass to "like new" quality.
Feel secure with Oahu Tub – we're fully insured with workman's comp and commercial liability insurance. Our professional staff is extremely careful and conscientious during a job, but if anything unexpected does occur inside or outside your home, our $3 million of coverage in commercial liability will protect your valuable property. Know that you're in good hands with Oahu Tub. Call Now: (808) 554-1570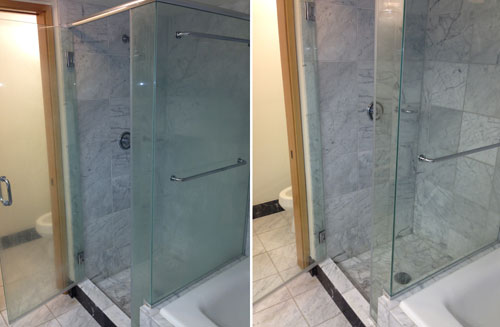 Glass shower enclosures like this on in the Waikiki Landmark cost upwards of $2500 to replace. We can restore these to near-new condition for a fraction of the cost.